I haven't posted in a while now. I do apologize for this, and for also
breaking my promise of daily coordinates.
I took a challenge too big for me to deal with.
Even dressing up everyday really was too much for my energy levels.
Anyways. I hope you are all doing well.
While I was away, many things happened !
Well, first I received my last items from my Moitie haul.
I also started to pay for a dream dress of mine, in a shape I wasn't expecting to buy !
The Cathedral print JSK in grey/silver <3
The Gothic&Lolita Bible is also coming out this week-end, but sadly, my
money is extremely short, so I hope it's only the winter coats edition, so no temptation
comes my way !
In the meantime too, Moi dix mois has flown to Russia and went home in a short week-end
trip for a show at Kubana Festival !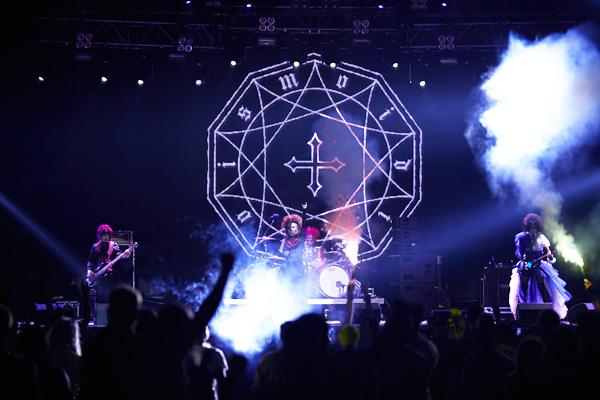 It seems they had a great show. You can find the whole show, filmed by a fan in the audience
on
youtube
. The quality isn't too HD, but you can nonetheless witness the show !
To be really honest, I wasn't expecting much, after seeing the overall
list of guests of the festival, and asking myself if it was a festival appropriate for
Moi dix mois to play at. It seems that the audience liked it, and that some fans
were present as well, so I'm really glad for them. The stage was beautiful, and
I think they all wholeheartedly played wonderfully. It was a very good performance overall.
Of course, the absence of K made a whole in the team spirit, but they still
made a concert that K would have been very proud of.
The song for K also really touched me (second song in the show),
and I cannot wait to hear a clearer version of
it in recording soon.
After that, I also have a new room mate since last sunday !
His name is Bijou ! He's a little budgerigar (budgie) <3
He's still shy and a little afraid of me, but I think he will do well here !
He's adorable. Sadly, I have to leave him home alone all day ;___;
!!!!!
And lastly, sunday I am attending a Lolita Tea Party in Montreal,
and Babyssb was invited, so I might have some nice pictures from the event !
I hope it will be fun ~